DFF & MBRIF award 2nd batch of young Entrepreneurs at the University Entrepreneurship (UEP) Award Ceremony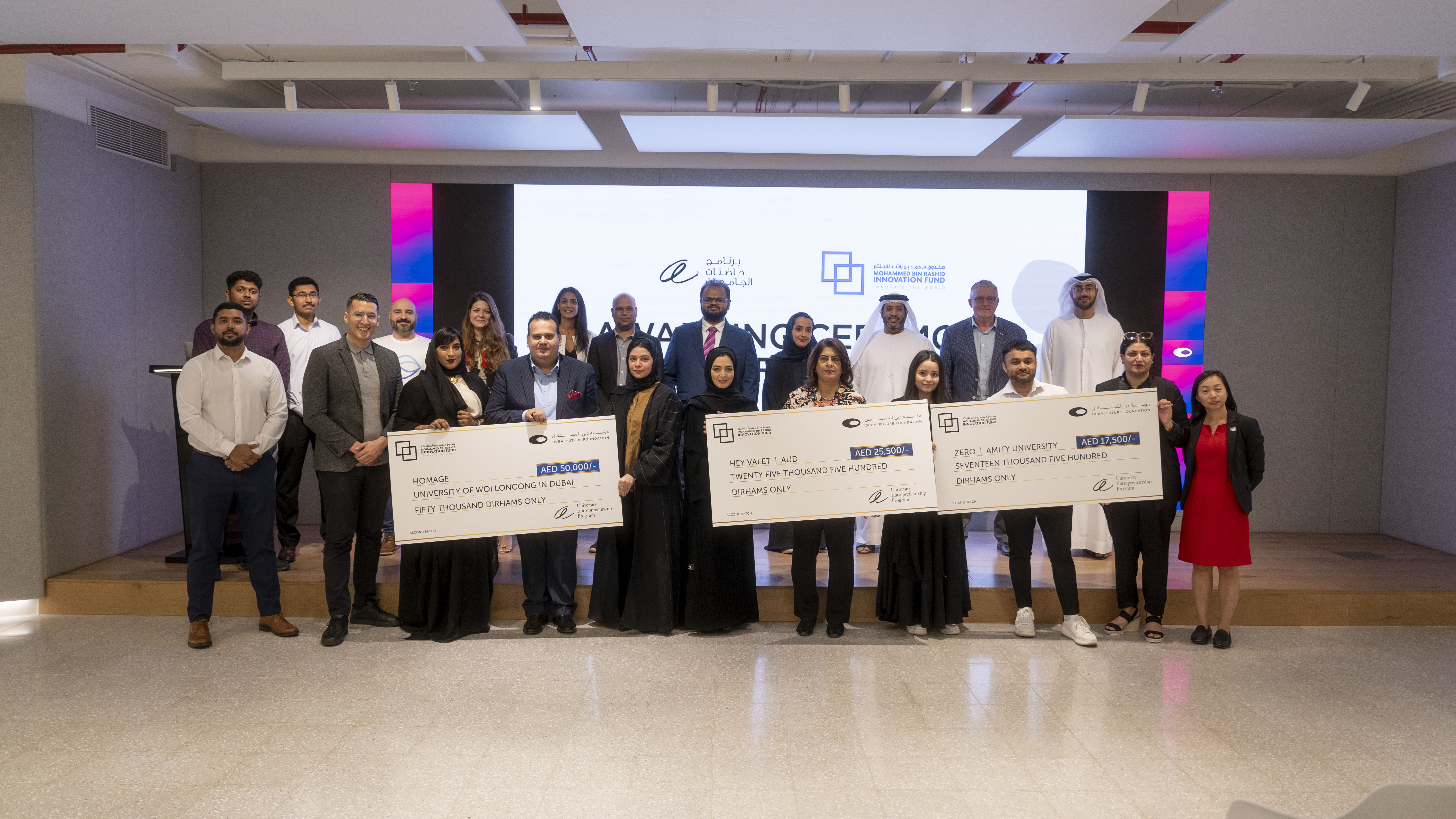 Abu Dhabi, United Arab Emirates, 19 October 2022: MBRIF in partnership with The Dubai Future Foundation (DFF) held the event on Oct 3rd at Area 2071 in Emirates Towers.
Students from some of Dubai's top universities had previously presented their innovative projects and entrepreneurial ideas to a panel of judges in the hope of being selected for a special grant and access to the MBRIF accelerator program.
Students participating submitted concepts for startup companies designed to contribute to the development of sectors such as energy, healthcare, mobility, and agriculture.
The projects were reviewed at the demonstration day, marking the last step of the incubation phase of the University Entrepreneurship Program, which aims to support the development of startups in the UAE. During the incubation phase, startups worked on developing their ideas into minimum viable products (MVP). Each university nominated up to five teams to participate at the demo day. Their projects were judged by a panel including representatives from DFF, MBRIF, and Emirates Development Bank.
After assessing each project, six teams were selected and given the chance to join a four-month MBRIF Accelerator program. The top three winners also received grants of up to AED 50,000 to fund their projects. The winning teams were selected based on a set of criteria that included originality of ideas, their utility, and the ability to apply and develop them into use-case projects.
6 teams were awarded out of which the team from University of Wollongong, American University of Dubai and Amity University also received grants from MBRIF and the Dubai Future Foundation.
The UEP is Specifically designed for students who have the entrepreneurial skills and drive and are looking to take their ideas into the real world in order to realize the vision of His Highness Sheikh Mohammed bin Rashid Al Maktoum, Vice President, Prime Minister and Ruler of Dubai, in achieving the goals of the sixth article of the Fifty-Year Charter to transform public and private universities into economic and creative free zones. Students from international and local institutes are onboarded into this program with the clear mission of powering their ideas through mentorship and support from the DFF.