Driving the Changemakers: Mohammed Bin Rashid Innovation Fund Backs Promising Innovators at GITEX Future Stars
Dubai, October 14, 2019 – The Mohammed Bin Rashid Innovation Fund (MBRIF) took part in the GITEX Future Stars exhibition, held from October 6-9, 2019, at the Dubai World Trade Centre, as part of the 39th GITEX Technology Week. The MBRIF was also represented at the Ministry of Finance's stand at the event, as part of the government exhibition.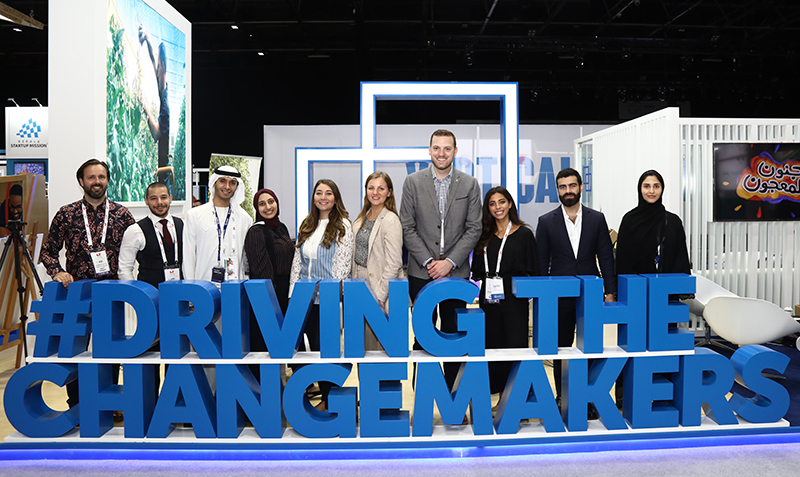 The MBRIF participated in the exhibition with the aim of engaging directly with innovators taking part, to discuss how the MBRIF can support their growth journey through its two flagship programs: The Guarantee Scheme, which provides innovators with access to financial support in the form of federal-government backed credit guarantees, and the Innovation Accelerator, which supports innovators to unlock their true potential by providing access to world-class experts, coaching, industry insights and other key resources to help businesses thrive in the UAE.
Day one of GITEX Future Stars also saw the MBRIF Accelerator officially open the door to applications for its Winter Cohort, where it will continue to receive submissions from innovators for the next 7 days.
"The Mohammed Bin Rashid Innovation Fund was established to be a reliable partner and lend its support to innovators, empowering them to develop into successful ventures that benefit their communities," said MBRIF Accelerator's Managing Director, Alexander Collins. "The GITEX Future Stars exhibition gave us a prominent platform to achieve this purpose, it allowed us to meet face to face with innovative start-ups and the entrepreneurs behind them, while also providing a space for us to convey our insight and expertise into the entrepreneurship and SME markets."
"With our activities at this year's GITEX, the MBRIF essentially brought together a holistic entrepreneurship ecosystem in the UAE , from subject-matter expert sessions, to pitching masterclasses, strategic partner presentations, and innovator showcases," Collins added, noting that the sessions MBRIF ran at the event walked entrepreneurs through the successive phases to develop their projects into successful on-the-ground ventures.
The MBRIF organized a host of activities at GITEX Future Stars with innovators in mind, including: 'Mentorship Clinics' by a number of industry experts working with the MBRIF, 'Member Showcases' to spotlight their members, 'Pitching Masterclass' for innovators to receive on-the-spot feedback from the MBRIF team, as well as meetings for all interested visitors to have one-to-one conversations with the team. Additionally, the leadership participated in the 'MentorMe' clinics on the GFS main stage, talking about the innovation ecosystem, what the MBRIF's purpose is, and what it offers its members.
The MBRIF Mentorship Clinics featured Michael Gernon, CEIO of GEMS Education; Sherif Tawfik, Regional Director for Commercial Partners and Channel Business at Microsoft Gulf; Shane Shin and Wendy Sfeir, Co-Founding Managing Partner, and Legal Counsel at Shorooq Investments, respectively; Natalie Sleiman, Partner and Head of Technology Practice at Stanton Chase - Middle East; Lamis Harib, Co-founding Partner and Marketing Director at Ecabiotec Middle East; and Stewart Kirkham, Director in EY MENA's Advisory Practice focused on Real Estate, Hospitality and Construction.
MBRIF's coaching team also gave valuable feedback to innovators through the Pitching Masterclasses, featuring Zayd Raoof, Omar Annous, Gordon Suttie, and Nabeel Rehman from the Mohammed Bin Rashid Innovation Fund. Meanwhile, the Member Showcase saw consecutive presentations from various members of both programs, namely: Addenda, Nabta Health, Pure Harvest, Lamsa, CarSwitch, Smart Crowd, Kinteract, Oliv, Heyraat e-Store, Smart Labour, RAZRLAB, Optimus, EVA and Hey Doc!
Furthermore, on Tuesday, October 8th, Fatima Alnaqbi, the Chief Innovation Officer at the Ministry of Finance, along with Fadi Amireh, Director of Business Finance at Emirates Development Bank, overseeing the MBRIF Guarantee Scheme, and Alex Collins, Managing Director at the MBRIF Accelerator, presented and held meetings throughout the duration of the exhibition to shed light on MBRIF experiences.
"The MBRIF Guarantee Scheme was founded to financially support entrepreneurs and SMEs with unique and innovative ideas who can drive the success of the UAE through contributing to the prosperity and sustainability of the country. We at the MBRIF are actively pursuing investment opportunities in fast-growing UAE SMEs, that have the potential to deliver a large-scale impact that is consistent with our visionary mandate" said Fadi Amireh, Business Finance Director at Emirates Development Bank.
The Mohammed Bin Rashid Innovation Fund reported that over 700 attendees visited their stand to meet them and participate in their various workshops and sessions, over 200 applications were submitted to the MBRIF Accelerator, 6 Sector Expert discussion panels were held, and over 20 pitches were delivered and received feedback from MBRIF experts.
GITEX Future Stars is the largest start-up event in the Middle East, North Africa, and South Asia region. It brings together a top-class panel of investors, corporate and government buyers, and international media to set the stage for start-up success. The exhibition takes place alongside GITEX Technology Week, where the two events together offer access to more than 100,000 visitors combined – a large percentage of whom are director-level or above – from over 140 countries. Furthermore, 46% of visitors at GITEX Future Stars are end users/buyers.